How to choose a lover that has plenty of luck and no worries in his life? Find out what signs are the luckiest men you can choose for marriage.

Aries (21st of March – 20th of April)
Even if it doesn't quite fall from the heavens, the Aries men are not totally out of luck. They work hard and they have a competitive spirit, so they will fight to attract luck on their side. You won't lack good luck next to a man born in the sign of Aries.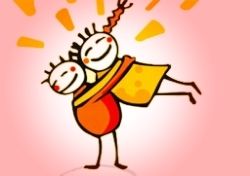 Taurus (21st of April – 21st of May)
Taurus men don't exactly know what bad luck is because they are among the luckiest people. Even if they face challenges, luck is on their side when they least expect it.

Gemini (22nd of May – 21st of June)
They are borne under a lucky sign, they are aware of it and they are not such a bad choice when it comes to marriage. The men under the sign of Gemini know how to attract luck on their side.
Cancer (22nd of June – 21st of July)
The men born in the sign of Cancer don't really believe in luck, so they are not even aware of it when it happens to them. A more optimistic attitude may help them successfully overpass potentially bad situations.
Leo (22nd of July – 22nd of August)
With a man born under the sign of Lion, you will always be safe when it comes to luck, especially in the financial field. Regardless the situation, Lions manage to get luck on their side.
Virgo (23rd of August – 22nd of September)
Men in the sign of the Virgo are not amongst the luckiest ones. But with hard work, discipline and stringency they would manage to have luck on their side.
Libra (23rd of September – 22nd of October)
Men born under the sign of Libra are luckier than they think. It often happens that their luck slips through their fingers precisely because they don't notice it and don't know how to exploit it.
Scorpio (23rd of October – 21st of November)
The men under the sign of Scorpio are not quite in the top luckiest signs. But through hard work and an optimistic attitude, they manage to do well in their lives and face the challenges.
Sagittarius (22nd of November – 21st of December)
If you marry a Sagittarius man, you won't have to worry about money because the men under this sign have plenty of luck and, usually, they don't even have to move a finger for it. The reason would be that their sign is governed by Jupiter, the planet of luck.
Capricorn (22nd of December – 20th of January)
The men borne in the sign of Capricorn don't just stay and wait for their luck to fall from heavens. They are well organized and they know how to deal with an apparent dead-end situation, attracting luck on their side.
Aquarius (20th of January – 18th of February)
Even if they are considered to be pretty lucky, the Aquarius men are not aware of this and often times luck passes them by. With a bit of will and a lot of responsibility from their part, you can be sure you won't be starving next to an Aquarius man.
Pisces (19th of February – 20th of March)
The hesitation and lack of organization can interfere with your luck, and the men in Pisces often ignore it and don't consider it too important. They are lucky, but only if they appreciate their luck too.